Welcome to the ultimate guide to the ten best 3-subject notebooks! Whether you're a student, an artist, or just looking for a stylish way to stay organized, there's something for everyone in our selection of top-rated three-subject notebooks. We have carefully researched the best three-subject notebooks on the market to bring you our comprehensive guide. We've included a range of different products in terms of style, size, price, and features to make sure there's something to meet the needs of everyone.
1. Spiral College Ruled 3 Subject Notebooks
This 3-Subject Spiral College Ruled Notebook by Better Office Products is perfect for households with multiple students, home or office use. Each notebook has a different colored cover (black, blue, green, red, purple, and yellow), making it easy to color code projects and school subjects.
The standard elementary/grade school rule space of 9/32 inches between lines and 40 sheets/80 pages per subject provides ample space for comfortable writing. Each 3-Subject notebook is 3-hole punched and measures 10.5″ x 8″, making it binder ready, while the snag-free spiral binding won't catch on clothing or backpacks. With six notebooks in one set, you'll have a total of 120 sheets and 240 pages. The notebook features flat pages to provide an optimal writing experience, perfect for both righties and lefties alike.
2. PVC College Ruled 3 Subject Notebook Set
The 3 Subject College Ruled Spiral Notebook Set from Yoobi is perfect for those looking to spruce up their notes. Each notebook contains 150 college-ruled, perforated sheets and interior paper pockets for storing loose items. The perforated pages make it easy to tear out cleanly and store them in the interior paper pockets.
Additionally, the pages are 3-ring binder compatible, so you can easily organize them into a 3-ring binder. With three individual spiral-bound notebooks, you'll have plenty of room for taking notes and completing assignments. The 3 Subject Notebook Set is ideal for those looking to separate their notes by class, such as science, math, and English notebook. Not only will they be organized, but they can also be done in style with Yoobi's three subject spiral-bound notebooks!
If you want to know more about spiral notebooks, you can click here: Wide Ruled Spiral Notebook: Some Brief Introduction.
3. Set of Printed Spiral 3 Subject Notebooks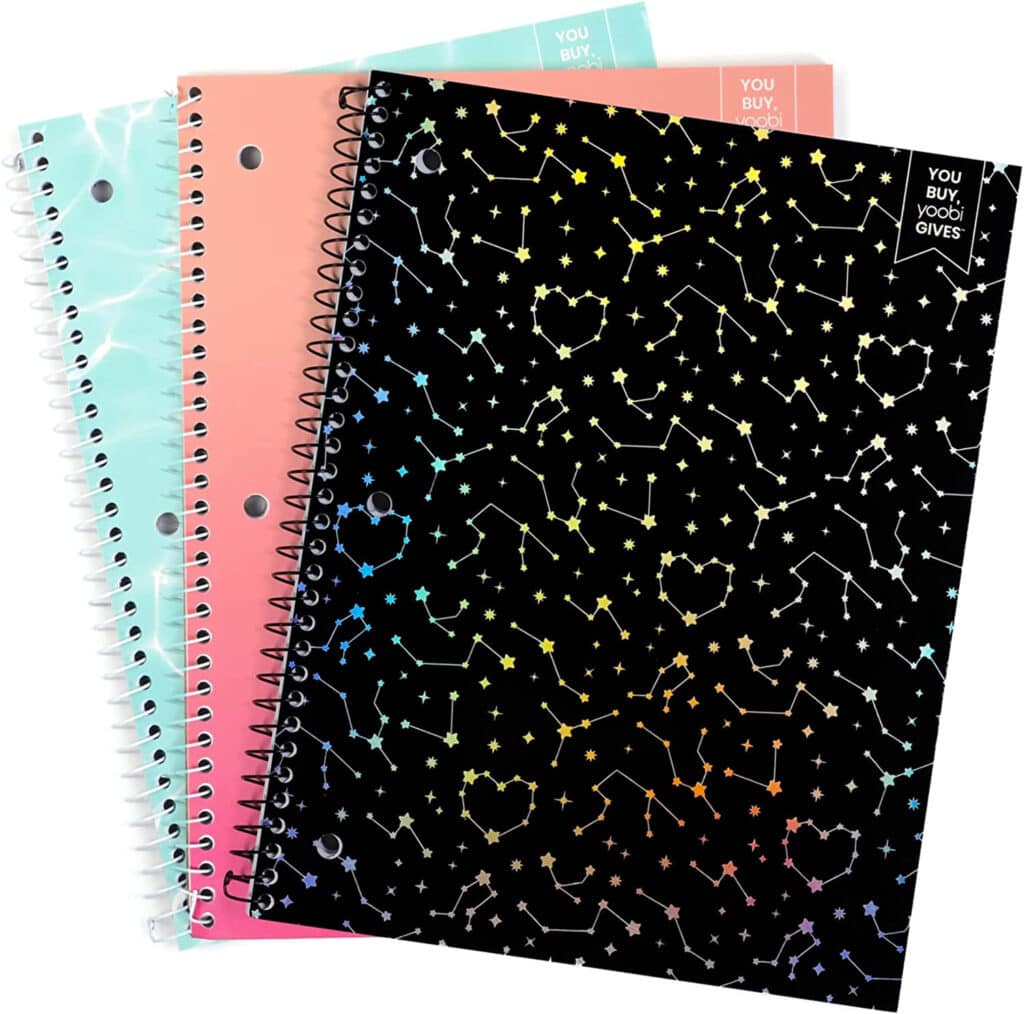 This 3-Subject Spiral College Ruled Notebook is the perfect companion for students or professionals with multiple projects. Each notebook is 3-hole punched and measures 8.5″ x 10.5″, making it binder ready, while snag-free spiral binding ensures a smooth writing experience without any clothes getting caught.
Additionally, pages lay flat and have 9/32 inches between lines, ensuring comfortable writing. The set of 3 comes in various colors and prints, so you can easily keep projects and school subjects classified. The prints are Celestial, Earth & Water, and Heart. Each notebook contains 150 college-ruled perforated pages with interior paper pockets for easy storage of loose notes and papers. With Yoobi's 3-subject spiral bound notebook set, you can stay organized and stylish at the same time!
4. A5 Hardcover Blank 3 Subject Notebooks
This 3-Pack Spiral A5 Hardcover Blank 3 Subject Notebook by RETTACY features 3 notebooks with a total of 480 writing pages. The paper is made from 100gsm acid-free paper that offers a smooth touch and prevents bleeding, providing you with a great journaling experience.
Each notebook is bound with a sturdy spiral binding for easy tear-out of mistakes without damaging the entire journal and offers an easy lay flat and flip page ability. The clear hard cover protects the inner papers while allowing users to decorate it according to their liking. This 3 Pack Notebook is ideal for bullet journaling due to its convenient A5 size, making it perfect for carrying anywhere.
5. College Ruled Spiral 3 Subject Notebooks
The 1 Subject College Ruled Spiral Notebook Set by Mead provides the perfect writing experience for students, with 70 double-sided, college-ruled pages per notebook. Each sheet measures 10-1/2″ x 7-1/2″ when torn out and is conveniently 3-hole punched for easy binder organization.
The wire binding and durable cover keep all sheets securely in place, while the perforated pages allow easy removal of assignments. The notebooks come in packs of 3 with assorted designs – design choice is not available and will be selected randomly. This set is perfect for staying organized and completing your work.
6. 3 Subject Notebooks with Dual Spiral Binding
Writing will become more enjoyable with the 3-pack Hardcover Spiral Notebook from MuiAng. Its double spiral binding allows for easy page turning and paper removal where needed, with a sturdy hardcover to protect against damage. Each 80gsm sheet is smooth to the touch and offers 23 lines of 8mm wide ruled spacing, plenty of room for creativity or note-taking.
This A5-sized notebook has 160 pages/80 sheets in total and can be easily tucked into any bag or backpack for on-the-go convenience. Perfect for journals, diaries, ideas, travel logs, notes, and more! Get organized today with this great product from MuiAng!
7. Wide Ruled Spiral 3 Subject Notebook
The practical 1InTheOffice 3-Subject Wide Ruled Spiral Notebook is ideal for taking notes, planning projects, and jotting down ideas. Each notebook has 120 sheets of wide ruled paper that measures 8" x 10.5", allowing you to make the most of your writing space. The colorful triplex cardstock cover allows you to identify and differentiate between subjects easily.
The spiral wire binding ensures the notebooks are extra durable, with sturdy front and back paperboard covers. Additionally, each notebook comes 3-hole punched so that it can be added to a binder, or individual pages can be taken out as needed. This pack of three makes it easier to ensure you always have a notebook for school, work, or home use.
8. Kraft Hardcover Wirebound 3 Subject Notebooks
The EUSOAR Wirebound Subject Writing A6 Pocket Notebooks are perfect for school, college, business, travel, and more. Each pack contains three A6 notebooks with a compact size of 3.9 x 5.5 inches (10 x 14 cm). The pages are lined with college rule 7mm line spacing and 120 pages/60 sheets per notebook.
An innovative twin-wire spiral design enables them to be opened flat or folded 360° without creating creases. Additionally, the reinforced 750gsm hardcover is thicker and sturdier, making it resistant to curling at the bottom. The inner paper pages are 100gsm, providing a smooth writing surface with no bleed-through. Bring these notebooks for note-taking, writing, travel journaling, planning, or diary-keeping!
9. Five Star Spiral 3 Subject Notebook
The Five Star Spiral Notebook by Mead is ideal for students and professionals alike. This wire-bound notebook features two sections, providing ample space for storing notes and other documents. It also includes two full-size pockets, which can be used for storing loose papers or documents requiring quick access.
The spiral binding ensures that pages will lie flat and remain secure whether the notebook is open or closed. The cover of this notebook further features a glossy laminated finish to provide durability and protection from everyday wear and tear. With its affordable price tag and sleek design, this notebook provides an excellent way for students and professionals to stay organized by keeping track of notes, assignments, and other documentation.
10. 3 Subject Notebook With College Ruled
This Hamelin ICE White Notebook is perfect for school, office, and home use as it provides a range of features, such as OPTIK PAPERTM, a smooth, bright white paper that does not bleed through. It also comes with FREE APP SCRIBZEE® on both Google & Apple app stores, allowing you to scan, organize, share, and search your notes. It contains 90 sheets/180 pages with micro-perforated pages for easy and clean removal of sheets.
It also features hard, tear-resistant front and back covers, which you can design; double wire binding; a durable pocket; colorful stickers and labels; a free study app; organizational stickers; and pocket folders to make your notes look more organized and professional. Moreover, it is college-ruled; it has a spiral hardcover that won't easily tear or damage; the papers are no-bleed, which makes this notebook ideal for students since it is one of the best college notebooks for smart note-taking.
Try Honeyoung Notebooks for Your Note-Taking Needs
Honeyoung Notebooks are perfect for students, professionals, and anybody who needs to keep track of their notes. Honeyoung has been making reliable, high-quality notebooks since 1990, and they are one of the most trusted notebook factories in the business. They offer a range of different styles and sizes to suit all of your needs, from pocket notebooks to full-sized A4 notebooks.
The paper is high quality, acid-free, and designed to prevent ink smearing and ghosting, while the hardcovers provide added protection for your notes. Honeyoung notebooks come in various colors and patterns to suit any style. Whether you are looking for a small french notebook or a large A4 journal, Honeyoung has the perfect notebook for you.
So, if you are looking for a reliable and high-quality notebook to help you keep track of your notes, Honeyoung notebooks are a perfect choice.
Final Words
The versatile notebooks mentioned above are ideal for keeping track of all your creative projects and school assignments or jotting down ideas and notes. With features such as tabbed dividers, convenient pockets, and a wide range of colors and sizes, these 3-subject notebooks effectively store all your important documents in one place. So if you're looking for a way to stay organized without compromising style or quality, read on to learn more about the ten best 3 subject notebooks!