When studying, does one risk losing a notebook? You stock up on notebooks as you prepare to enter the real world. Among the different types of notebooks, reputable loose leaf notebooks have become a standard tool for both school and work.
1. The binders of loose leaf notebook
The loose-leaf binder is mostly made up of paperboard, plastic, or metal. Covers for loose-leaf binders can be found in various forms, allowing you to express your personal taste in presentation.
Typically, a binder with two rivets on the top is used to secure a paper clip, which is a circular metal or plastic device. Once the paper has been taken out, the binder may be easily opened. While the loose-leaf notebook's folder is a notable feature, many people prefer the sleek binder.
A binder's number of available rings can be selected from a range depending on the size of the notebook's loose pages. The standard binder has 6 holes, but you can also get them in 9, 20, 26, and other configurations.
Materials such as leather, imitation or artificial leather, PVC, binding paper, specialty paper, coated paper, and similar materials are used for the covers of these loose-leaf notebooks. The covers of loose leaf notebooks can be personalized in various ways, including bronzing, colorful aluminum, leather color printing, laser engraving, and much more.
You may get beautiful customized graphics and catchy phrases printed on the front of loose-leaf notebooks just like you can with spiral notebook. One of the reasons why people like loose-leaf notebooks so much is because of the bright colors and aesthetic vibe.
2. Size and specifications
The typical dimensions of loose leaf paper shift from one use to the next. The typical size for loose leaf papers is 8.25 by 11.25 inches depending on the context of their use. Sizes A4, A5, and A6 are the most typical for journals and diaries, but A4 and A5 are also available.
If you want to know more about notebook size, please click here: Notebook Sizes: The Ultimate FAQ Guide.
3. Advantages of loose leaf notebook
Flexibility
The portability and cost-effectiveness of loose-leaf paper are its primary benefits. When using a ring binder, you can take out a sheet of paper that has been punched, utilize it, and then put it back in. Sheets can be rearranged, removed, and refiled in a new binder or discarded as necessary.
Students and others can save time by simply bringing the papers they need for the day and leaving the rest at home, thanks to the flexibility provided by binders' capacity to be easily reorganized and updated.
Ease of use
A page from a loose-leaf notebook can be pulled out after it has been recorded without disturbing the other pages. It's not just detachable; it can also be reassembled in different configurations and is simple to fix or alter if necessary. Contents recorded there can be reconstructed if necessary. It's enjoyable and useful in certain contexts, and the former is often the case.
Robust and trustworthy
The pages of many notebooks are quickly curled and turned up at the corners. Affordable loose-leaf notebooks have made these phenomena obsolete. This notebook style is ideal for people who will be using it regularly for work or school, as it is durable and dependable and can be bound into a more permanent document after use.
Customized publicity
Many businesses often opt for a memento as a token of appreciation on special occasions. When celebrating an occasion like an anniversary, hosting a significant meeting, or commemorating an award, many businesses turn to the tried-and-true loose-leaf notebook as a token of appreciation for their staff and customers.
The notebooks have a fresh, optimistic vibe. And if you want to get personal about it, you can imprint the notebook with your company's logo as a subtle form of promotion.
4. Disadvantages of loose leaf notebook
Loose-leaf paper's main drawback is that it's easy for individual pages to get torn out of the binder and lost if the punched holes get too worn or torn. It is possible to protect pages from wear and tear by using sheet protectors or adhesive reinforcing labels, and ring binders frequently include sheet lifters or other features.
5. Common uses of labels and split binder
Labels (as opposed to signs) are small pieces of printed or written information applied outside of a package or product. They can be made of paper, plastic film, fabric, metal, or other materials.
On the other hand, split binders are also used to differentiate different content, but instead of an outside label, it splits or separate content within the same notebook.
5.1 Easily customizable
Putting your own label on your loose leaf notebook streamlines the process of obtaining your preferred option. You can put on a label whatever kind of text, layout, or appearance you want your notebook to look like.
You can customize the label in every way, including how it looks and the data that is included. You can also make personalized labels for everything to give it a 'you' touch.
In the same way, you can customize the splits of your split binders to give them the look you want.
5.2 Notes for different subjects
When young adults enter college, education becomes much more complex than English and Maths. When studying various subjects that are distinct from each other, students look for ways to differentiate their loose leaf notebooks for different subjects.
Here labels are commonly used to easily differentiate between each subject notebook instead of constantly checking the content to identify the subject. Notebook labels are used to identify the subject you need instantly.
Similarly, split binders are the same thing, but instead of allocating a different notebook for every subject, you can separate each subject within one notebook.
This is often achieved through different colored or material page that divides each subject. Different notebooks are available for the preferred number of subjects you want. You can mostly get your hands on 3, 4,5, and 6 subject notebooks.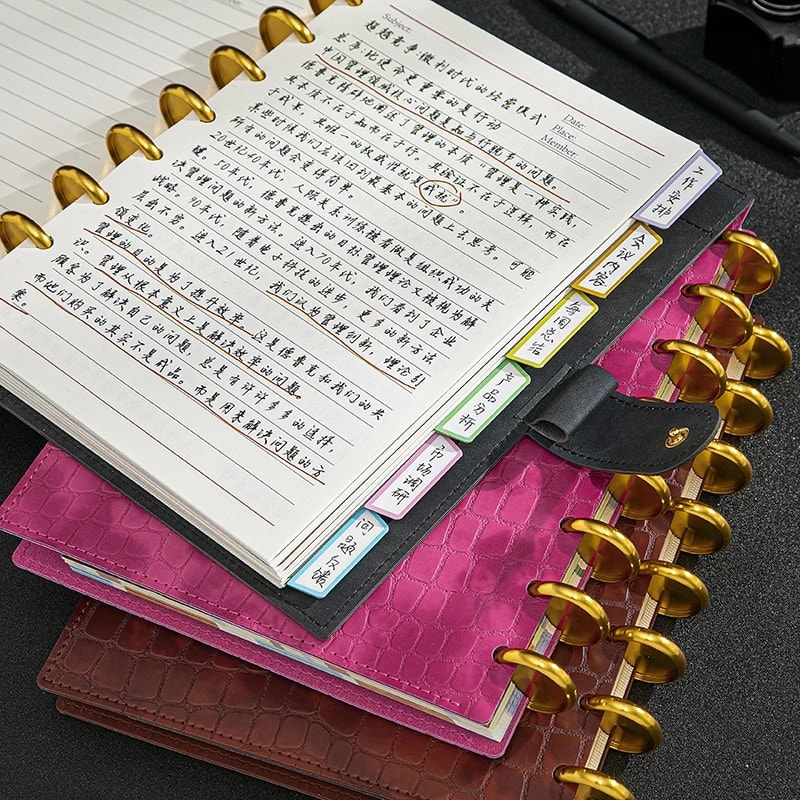 5.3 Recipes
Many people jot down multiple food recipes in a notebook, and when the time comes to cook them, the recipes are scattered over different places or cramped in one place.
To solve this issue, labels or split binders are now used by many to help people organize their recipes.
You can label different notebooks for foods such as Chinese, Pan-Asian, Italian, Continental, etc. This way, you can easily find all recipes you need in an organized and clean way every time you need them.
5.4 Retained documents
Another common use of labels and split notebooks is to arrange retained documents.
Most times, employees must retain many documents in their office that pile up to become a huge mess. Sometimes these piles contain important documents, too, which your boss can demand at any given time. In times like these, you can allocate labels to different types of documents, so they're safer and easier to find.
Furthermore, labels and split binders are also used for your personal documentation, e.g., property papers, loan installment documents, doctor's prescriptions, etc. Labels and split binders can thus assemble all different types of documents for you.
6. Types of loose leaf notebook paper
6.1 Wide ruled loose leaf notebook paper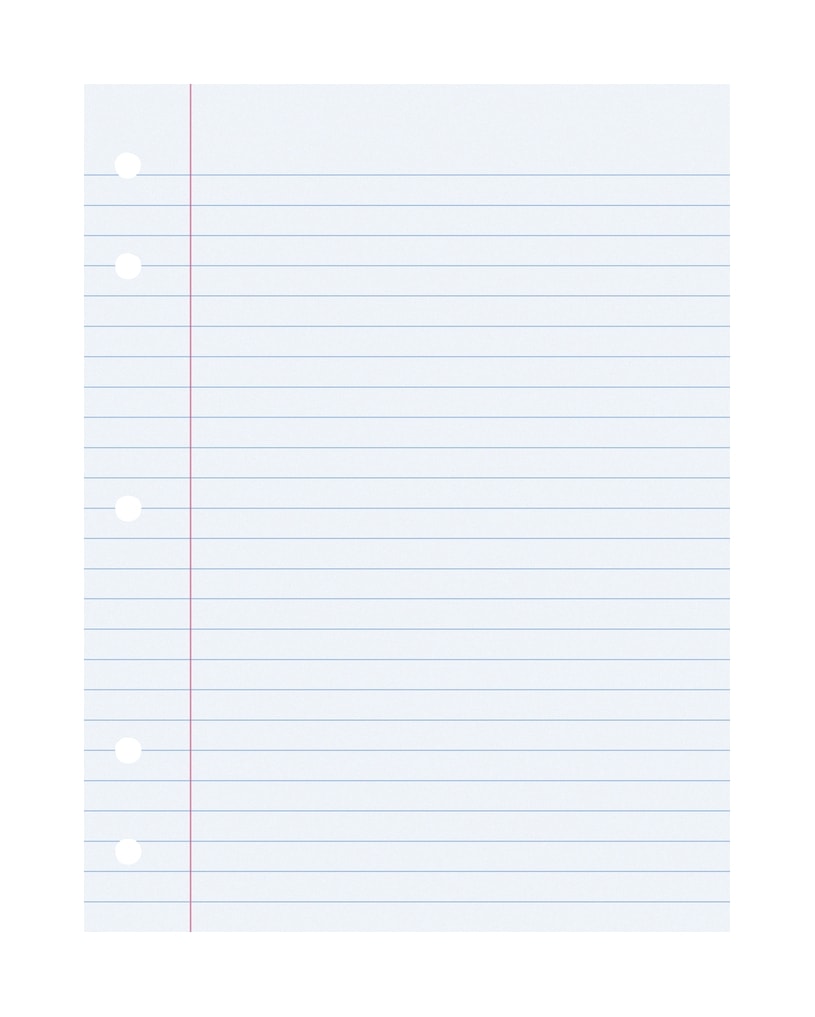 Wide Rule Loose Leaf Paper consists of lines and a margin, commonly used in loose-leaf binders. The printed lines are lighter in color to highlight the contrast between the handwriting and the background. Faint-ruled paper is a common name for this type of paper. Compared to other types of loose leaf paper, the lines on this one are noticeably wider.
6.2 Grid loose leaf notebook paper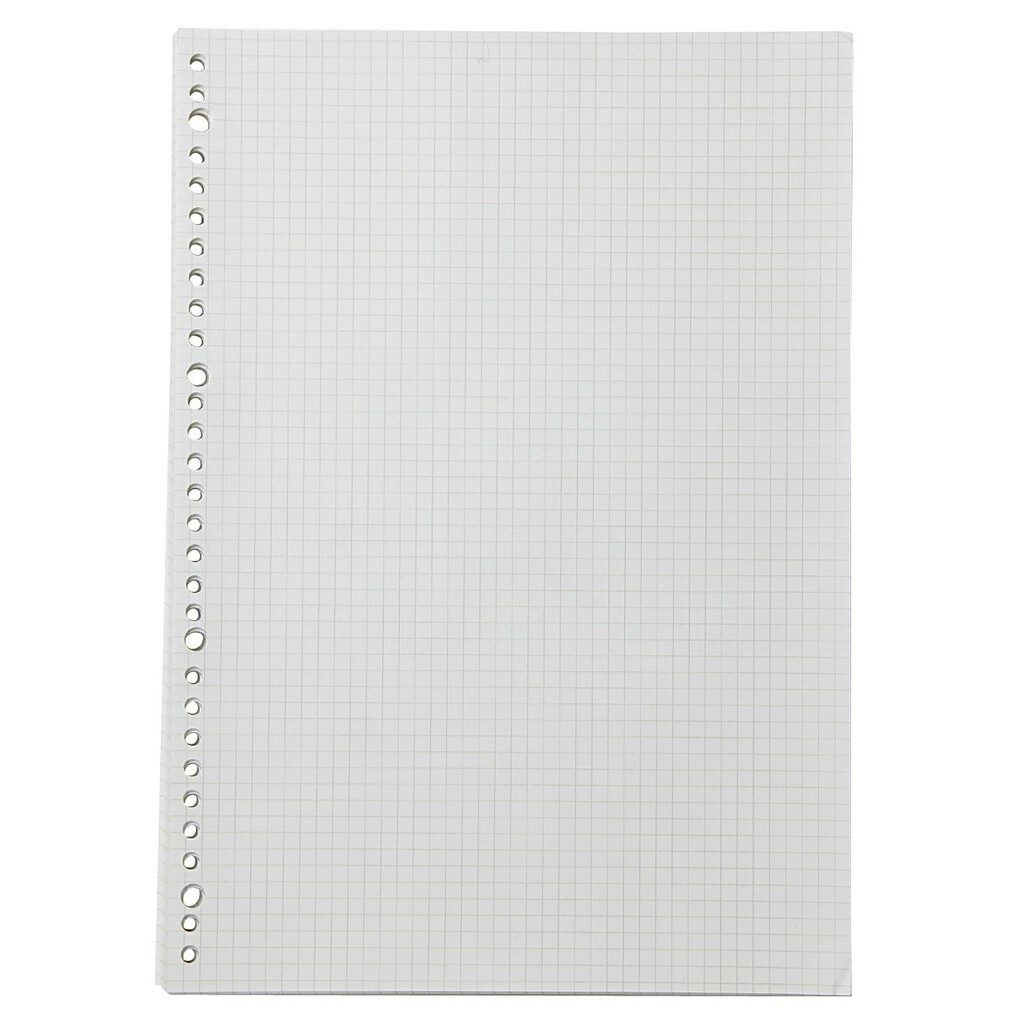 Loose leaf paper with a regular grid of lines is known variously as graph paper, coordinate paper, grid paper, or squared paper. Lines serve as benchmarks when sketching curves and plotting graphs of functions or experimental data. It can be found in many science labs and classrooms that teach math and engineering.
6.3 Blank loose leaf notebook paper
Size-wise, this paper is comparable to other papers, and the buyer can choose the color and material.
This loose leaf paper is similar to wide-ruled and grid loose leaf sheets, except it has no lines. Since there are no restrictions or pre-drawn lines, this blank canvas can be used for anything.
6.4 Dot grid loose leaf notebook paper
Lines on dot grid loose leaf paper are not solid but rather comprised of dots.
The concept of a dot grid can be seen by imagining a grid and then erasing all the lines to leave a single dot at each intersection. That's a journal with a dot grid. These notebooks have gained popularity due to the dots' ability to direct your handwriting or drawings without being intrusive.
6.5 Colorful loose leaf notebook paper
Any of the types mentioned above of loose leaf paper might be considered colored loose leaf paper if offered in various colors. Most papers sold in stores are white, cream, or one of the other pastel colors. The guiding lines are still visible in these papers, despite the coloring.
7. How to choose loose leaf notebook paper
Wide ruled loose leaf paper is best if you have large handwriting because the margins are greater and can accommodate your writing.
It's also an option for elementary school students since it provides more room for practice writing.
People with small handwriting or those who need the structure of a grid for graphs or plotting data are the most common users of grid loose leaf paper.
Furthermore, For most artists, blank loose leaf paper is a dream come true. Since it is blank, they can use it for whatever they like, whether a drawing or a doodle.
Try some dot grid loose leaf paper if you're looking for subtle support for your drawings or writing. If you plan on posting an image of your document online, you can also cover up these dots.
Lastly, colorful loose leaf paper is typically used by kids or girls who wish to add some flair to their projects by writing or drawing on something other than plain white paper.
8. Chinese loose leaf notebook manufacturer
Honeyoung – Get Your Desired Notebook
As a notebook manufacturer, Honeyoung has supplied consumers in 30+ countries with various notebooks for over 20 years. Every year, they send out over 3,600 containers' worth of notebooks worldwide.
What Makes Honeyoung The Best
Support available 24/7
Honeyoung's team of knowledgeable sales consultants will repair your notebook at no cost to you whenever you need it. They provide a variety of first-rate services to their clients even before your purchase.
Honeyoung provides proactive cost, design, production, packaging, and logistics optimization to help you save both time and money.
Quick shipment
Honeyoung has multiple fully automatic exercise book production lines, 6 fully automatic coil book production lines, and many High-end notebook production lines at their notebook facility.
Their factory has many production lines, so they can ship your order out as soon as possible, no matter how many units you need. So you don't have to worry about your order size before ordering.
Less costly
We give you full liberty to go through various notebook manufacturers, but in the end, Honeyoung will surely come out on top by providing the best in less.
They are one of the largest notebook factories in China; therefore, they get raw materials at the lowest possible cost. So, we can guarantee that their prices are the lowest on the market and there won't be any compromise on quality.
Complementary designs
Not everyone is a graphics expert and can meticulously convey what they want. Thus, Honeyoung insists you submit them a detailed design brief before proceeding with the actual design.
They will make the necessary changes and suggestions and re-send it to you for review. So you won't have to worry about an unsatisfactory designed notebook.
Over the course of a year, the company's design team has created more than 2000 unique print designs for their customers.
Superior quality
Customers are the biggest asset of any business, and thus the satisfaction of customers is Honeyoungs' top priority. They work tirelessly to enhance the quality of notebooks in every possible way. So you can sit back and relax as your notebook will arrive in perfect condition because it has passed its stringent 10-point inspection process.
Additionally, the company guarantees quality with immediate replacement or refund in the event of a failure to meet expectations.
Exceptional management
The leaders at Honeyoung have much relevant experience. Their entire crew has more than 20 years of experience in the field of notebooks.
As a result, you can feel confident in purchasing their products as they know what they're doing.
Conclusion
Despite the widespread adoption of personal computers, the top loose-leaf notebooks remain significant in the industry. Many writers before them used notebooks to draught the works that would become timeless classics.
Using a loose-leaf notebook comes with several benefits. Keeping a notebook is a mindset and a special approach to getting an education.