If you want to know something about French notebook, I hope this article can help you.
1. What is a French notebook?
The French notebook was first developed by Jean-Alexandre Seyès in the late nineteenth century. It has been prevalent in the French regions but has paved its way throughout the globe. It is essential to how French students are trained to write in educational institutions.
The French-ruled paper blends vertical and horizontal lines and thin lines surrounded by two thick lines. Bold lines are spaced each 8 mm, while thin lines have been spaced each 2 mm.
Each line has been designed to assist students in learning handwriting by maintaining constant letter length and alignment. Those same lines not only assist in keeping your letter sizes relatively consistent but also facilitate an easier flow throughout your cursive practice.
2. Common French notebook sizes and their uses
2.1 A4 French notebook size
Size:8.3 inches x 11.7 inches
You can write letters, manuscripts, rough draughts of blog articles, and other lengthy pieces of information in A4 size. Due to its substantially reduced weight, this size is frequently used among primary-level students.
2.2 A5 French notebook size
Size:5.8 inches x 8.3 inches
A5 notebooks are small, pocket-sized notebooks used for recording memos, sketches, budgeting, and organizing important facts and information. These writing pads aren't employed in official educational environments.
2.3 A6 French notebook size
Size:4.1 inches x 5.8 inches
Keep records of daily appointments, make discussion notes, and list your to-dos throughout the day in one convenient A6 notepad that you can easily carry with you.
2.4 B5 French notebook size
Size:7.2 inches x 10.1 inches
The B5, commonly regarded as a composition notebook, provides plenty of room for organizing, drawing, and creating dream boards. One could utilize it for composing essays, topics, and other writing projects from the school.
2.5 Pocket size french notebook
Size:3.5 inches x 5.5 inches
A pocket-sized notepad is relatively small and can be conveniently tucked inside pockets. You can utilize the pocket to make lists and keep records while you're on the move.
Here are five common French notebook sizes. If you want to know more about notebook sizes, please click Notebook Sizes: The Ultimate FAQ Guide.
3. How to write in a French notebook?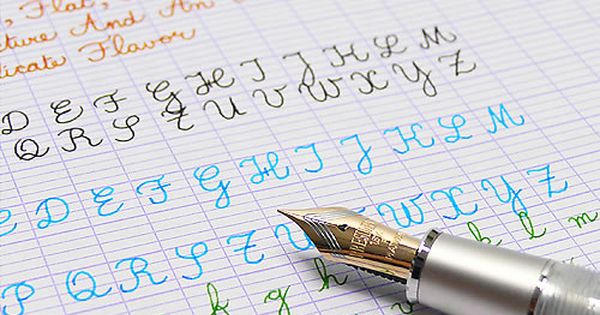 At first, it might seem overwhelming to be able to write in a French-ruled notebook, but if you follow the series of steps mentioned below, it might be comparatively easier for you to begin with.
3.1 For small letters
Step 1: You need to categorize letters as either Root, Grass, or Sky.
Root letters include g, j, p, q, y, and z.
Grass letters include the letters a, c, e, i, m, n, o, r, s, u, v, w, x
Sky letters include b, h, k, and l (excluding t, d, and f)
Step 2: This step applies to all the letters of the Grass letter group.
You must take these letters up to the first line when writing them down.
Step 3: This step applies to all the letters d and t.
For these letters, you need to extend the tails of the letters (d and t) till the second line, while their bodies stay till the first line (from the ground).
Step 4: This step involves the sky letters
For these letters, you must make their bodies within the first line and extend their tails to the third line.
Step 5: This includes all the letters from the Root letters group.
These letters extend their body to the first line like all previous letters, but their tails go downwards till the second line.
Step 6: This step is exclusively for the letter 'f,' as it has to be extended towards the upper and lower lines. For the letter 'f,' you would have to extend it upwards till the third line while downwards till the second line (from the starting point).
3.2 For capital letters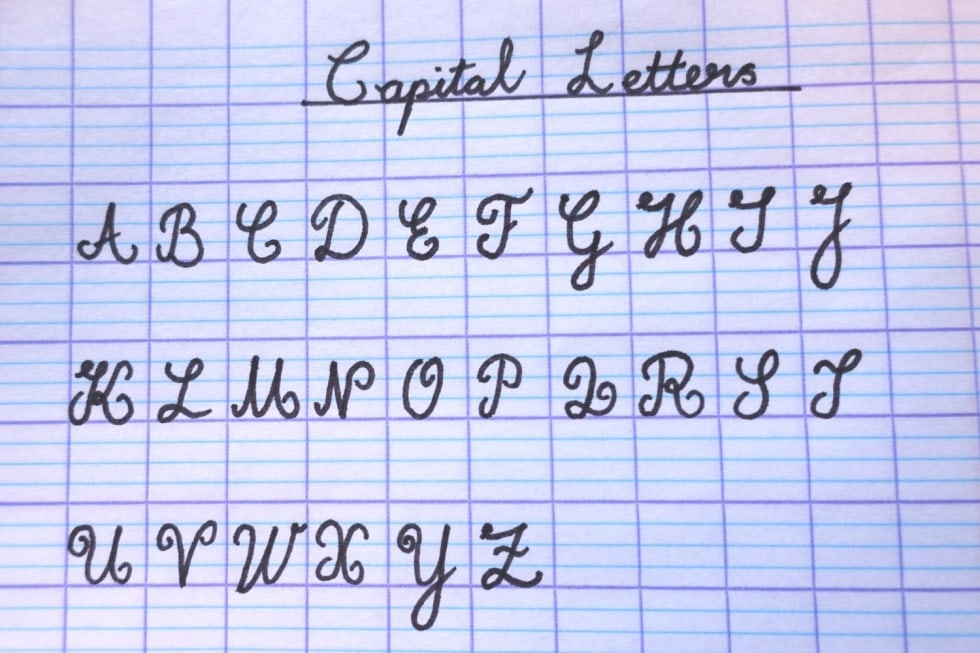 Remember to extend all of the alphabet to the third line when writing down capital letters.
3.3 For numbers
All the numbers in this format must be extended until the second line. Recollect that you must modify certain numbers slightly in the French system.
These include the numbers 1,7, and 9. 1 has to be made with 2 lines, 7 needs to have a line in the middle, while 9 needs to be made like an inverted 6.
4. Advantages and disadvantages of the French notebook
4.1 Advantages
The advantages of using a French-ruled notebook are numerous. Some of its benefits are mentioned below.
The French Ruled Notebook is one of the best methods to help you get consistent and flawless handwriting. If you are someone who has been looking to improve how their handwriting looks, it will serve as a golden ticket for you as you will be practicing within the concise lines to get your letters into the most organized manner possible!
Furthermore, French Ruled Notebooks have been widely used by many students and writers to learn calligraphy and cursive writing. These notebooks have a unique design that distinguishes them from the other notebooks in the frame.
4.2 Disadvantages
Although the French-ruled notebooks may prove a very beneficial choice, they also have certain setbacks.
As they contain many lines, it might not be easy for someone who is altogether new to these notebooks. Furthermore, as the lines are undeniably very close to each other, they may confuse the person writing on them and leave them on a baffling note.
Writing in these notebooks may seem exciting and fun, but you need to consider that it is a very time-consuming task, to begin with, and you would need to practice rigorously before you can get the hang of it.
4.3 Users and occasions
You may achieve numerous applications and objectives with these notebooks. They could be used for calligraphy, routine writing and note-taking, recording lab results, building matrices, and developing grading criteria.
You could even do crossword puzzles or sudokus on this paper or in Korean. It would be ideal for keeping a diary, doodling, or journaling.
5. Countries that use more French notebook
Although French notebooks are used all over the world, they are widely used in the following countries.
5.1 France
French notebooks are a unique kind of notebooks that have their roots in France. It is a crucial component of the writing instructions provided to French students within their academic institutions. It is a distinguishing element of their cultural identity.
5.2 Canada
Canada's first official language remains French. The bulk of native French speakers in Canada is Canadians of French ancestry, who comprise around 22% of the overall population. Hence, they have been using many French notebooks for decades.
5.3 Belgium
Due to geographical closeness, historical connections, and shared cultural heritage, French-Belgian ties are exceptionally warm and courteous. French, the population's native language, is the second most prevalent official language. As almost 40% of the total population is French-speaking, it leads to greater demand and appreciation for French notebooks.
6. 2022 Top 6 most popular French notebook cover patterns
The French Ruled Notebooks come in a diverse variety of cover patterns. Some of the popular French Notebook cover patterns have been listed below.
6.1 Solid color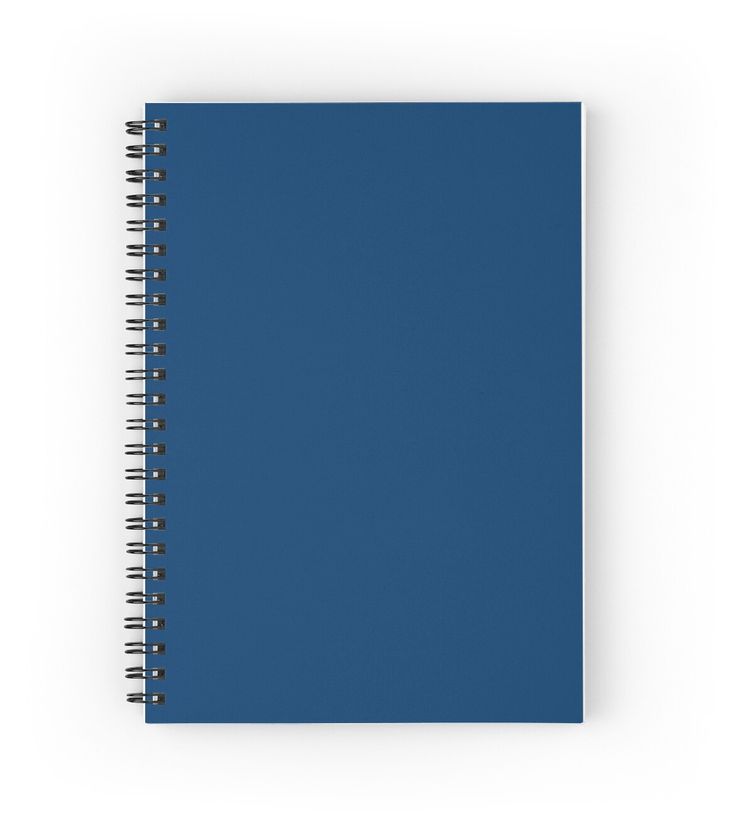 Solid colors have been one of the most prevailing designs since the invention of French Ruled Notebooks. These covers provide a classical look for every occasion, whether you need them for an office meeting or your regular class.
The most trending colors in this category are Black, Dark Blue, and Red.
6.2 French flag
The French flag showcases the essence of French culture; the blue, white, and red colors depict nobility, clergy, and bourgeois. This notebook cover is ideal for taking French notes and for those who appreciate France. This print is fairly unique, making it stand out from all other notebooks!
6.3 Eiffel tower
Eiffel Tower has been a majestic symbol of Paris and France for decades. It is a striking landmark that has always been an iconic image of France and its culture. This notebook cover is loved not only by the natives but admired by people from around the globe.
6.4 French bulldog
The French bulldogs have been very popular in the past. As people call them, 'The cute little Frenchie' is almost everyone's favorite companion dog.
The French Bulldog cover with its big eyes and rounded bat ears is enough to cast a charm on anyone who looks at it!
6.5 Flowers
Flowers are an important part of French culture. The notebooks having a flower cover page would be an excellent choice for artists and designers. This notebook would serve to be a suitable choice for journaling and note-taking.
6.6 Unicorn
This cover pattern includes a picture of the elegant unicorn on the front depicting the French love for unicorns. This unicorn cover gives the notebook a very adorable look, making it the perfect fit for young girls.
7. French notebook brand
7.1 Rhodia
Rhodia is renowned for its superior craftsmanship, stringent standards, and classic style. It began as part of the Verilhac Brothers but was later purchased by Clairefontaine in 1997.
Rhodia has a name for being a trustworthy and easy-to-find fountain pen paper as It dries quickly while retaining a number of the exciting facts of ink, such as color and shine. The majority of office supply retailers, as well as online stores, have been providing Rhodia notebooks.
If you ever need quality paper, you should be happy to know that a notepad of Rhodia would easily be around.
7.2 Clairefontaine
Jean-Baptiste Bichelberger established his paper mill around Etival-Clairefontaine in 1858, since Clairefontaine gradually evolved to establish one of the state's most pronounced. This will be an excellent paper to use if you write frequently. In addition to being a delight to write over, it also helps your writing appear particularly pleasant. Even though there are many different types of paper available for letter writing, none would be as smooth as this paper. Clairefontaine can be purchased through online and retail stores, respectively.
7.3 Oxford
What could possibly be disliked about these notebooks? They are reasonably priced, of excellent quality, and comfortable to write with. one can only adore how conventional and simple they are. Oxford's history goes back to 1901-1910 when the company was created in France.
The inclusion of excellent optical white paper, which is anti-reflective, is a major component of Oxford notebooks. Their notebooks can be purchased through online and retail stores, respectively.
7.4 Conquerant Classique
Conquérant notebooks are primarily manufactured in Normandy, France. With new product introductions every year, creativity is at the core of their organizational approach. Their whole product line is ecologically friendly.
Additionally, they focus strongly on the child's wellness from a relatively young age. To combat the side effects of eye strain and massively improve focus, they have created the Seyès, a two-color format in collaboration with ophthalmologists.
These notebooks can be purchased from a nearby retail store and multiple online stores.
8. Where can we buy a French notebook?
If you want to buy a few French notebooks for your personal use, you may find them online or at school supply stores. However, suppose you are looking to buy a large number of notebooks or trying to identify a company that manufactures French notebooks in bulk. In that case, you might want to consider the notebook manufacturer : Anhui Honeyoung Paper Printing Co., Ltd.
Anhui Honeyoung Paper Printing Co., Ltd., a company focused on exports and specializing in manufacturing and exporting a wide variety of notebooks, was established in 2001. Honeyoung has over 20 years of expertise in stationery and item exports and provides a broad range of notebooks to consumers from over 30 countries.
Their professional sales consultants provide a range of pre-sales services tailored to their client's requirements. Honeyoung offers cost, design, production, packaging, and logistics optimization for proactive time and costs savings. Regardless of the size of your order, they can provide you with a quotation in the shortest possible time.
All orders are subjected to a 10-point inspection to guarantee that the notebook arrives without flaws. The best aspect might be that they encourage customers to visit their notebook facility to feel more confident in their manufacturing and quality assurance.
Honeyoung would be an excellent choice for those who want to buy notebooks in a great volume, such as Stores, Schools, Government, or corporate companies.
Conclusion
French ruled notebooks would be a good choice if you want to polish your handwriting skills. Although it might seem hard (isn't everything in life hard?), undoubtedly, it will give you some promising results! And if you are looking for a French-ruled notebook, check out the brands mentioned above, they won't disappoint you!